ADA Requirements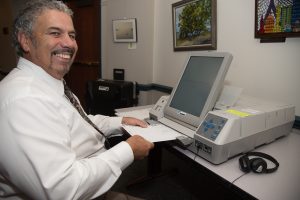 All polling locations in Massachusetts are required to be accessible.
Please visit the Secretary of States's webpage for more information  :  Voting for People with Disabilities.
Federal requirements are included in the ADA Checklist for Polling places
Report Voting Issues
If you have encountered issues in the past, or know of existing barriers for people with disabilities, please contact the state at 800-462-VOTE (8683) (toll free) or 617-727-2828. You may also e-mail them at elections@sec.state.ma.us.
The Disability Law Center can also help – Please contact DLC at 800-872-9992 or 617-723-8455.  Visit their website www.dlc-ma.org.
ASL Voter Hotline
If you are deaf or hard of hearing, and cannot find answers to your questions, visit the ASL Voter Hotline!  https://www.nad.org/asl-voter-hotline/
Accessibility Reports