Updated May 21
The conference was very well attended with people from a wide variety of organizations.    We will be sending out materials from the conference to help everyone be more active going forward.
The federal and state election officials left us all with the feeling that they all are trying very hard to ensure that all polling locations are accessible to everyone.  In spite of their efforts, we are not at 100%, but they were knowledgeable on the issues, and seemed intent on continuing to fix barriers.
Going forward, we have two important and related goals – to register people with disabilities to vote, and to Get Out The Vote in November.  We also need to continue to be vigilant and ensure all events and venues are accessible to everyone.  Our emails will provide opportunities to become active as we determine how to best achieve these goals.
Thank you very much to the panel members who made the effort to attend, to update us on current efforts, and to listen to our concerns.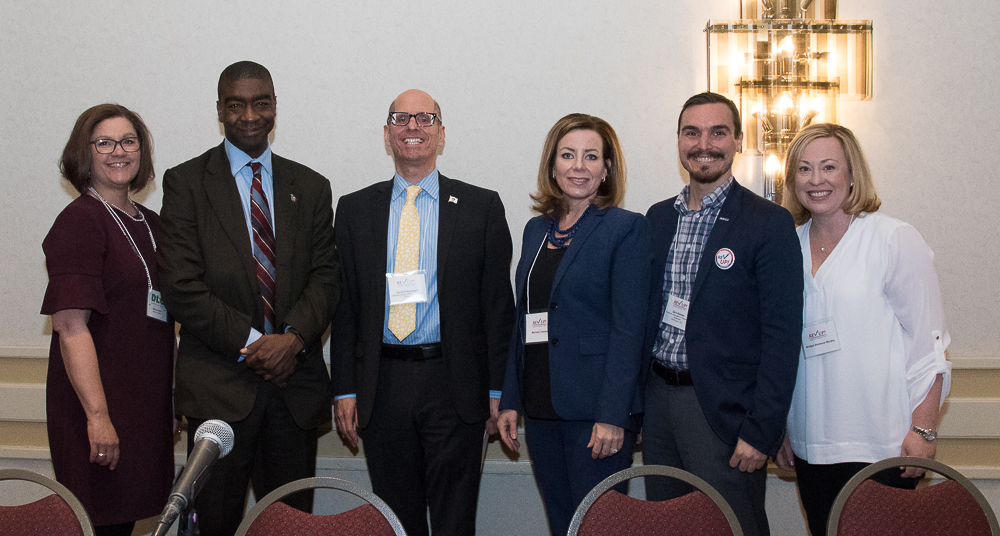 Speakers:
Commissioner Thomas Hicks, U.S. Election Assistance Commission will address: voter accessibility, voter registration, and increased HAVA funds for the states. https://www.eac.gov/
Michelle Tassarini, Director and Legal Counsel from the Secretary of the Commonwealth's Election Division
Bridget Simmons Murphy, Project Manager from the Secretary of the Commonwealth's Election Division
Zach Baldwin, AAPD will present on national REV UP efforts to allow people with disabilities to fully participate in the political process. https://www.aapd.com/about/zach-baldwin-director-of-outreach/

Cheryl Cumings – Our Space Our Place

Cheryl Cumings, Founder/Executive Director of Our Space Our Place, Inc. will discuss access issues. Soon after entering high school, Cheryl contracted encephalitis and became blind. She completed her BA at Princeton University and a graduate degree at The fletcher School of Law and Diplomacy at Tufts University. She worked at the Pentagon, Peace Corps, Massachusetts Commission for the blind and the University of Massachusetts medical school.Cheryl is a member of the Boston Chapter of the Bay State council of the blind and a Board Member of the Disability Policy consortium. She is also the Chair of the Disability Outreach Committee of the State Committee of the Massachusetts Democratic Party. Cheryl was an elector for the 2016 Electoral College.

l-r: Juliana Hurena (SABE) and Anne Fracht (Advocates)

Anne Fracht and Juliana Huerena, Vote Team with See Advocates Becoming Empowered (SABE) – they will be  presenting and discussing the results of their 2016 Voter Election Survey Report and the services that they offer to election officials and people with disabilities to make voting accessible for all citizens. Here is a link to their pdf report: http://www.sabeusa.org/wp-content/uploads/2017/03/2016-Voter-Survey-Final-Report-28229.pdf

Juliana Huereña has a bachelor's degree in General Studies from Northern Arizona University, with a Minor in Business Management and a focus in English and a Bachelor's degree in Music from Arizona State University.Juliana has supported the Self Advocacy movement from the beginning in Arizona with People First of Arizona and the Youth Action Council of Arizona. Juliana directed of the SW Alliance Regional Technical Assistance Center and worked with AZ, CO, NM, OH, TX, and UT to improve leadership, peer to peer education, and sharing information about self advocacy and group organizing through video blogs, webinars, and state plans. Most recently, she is working on the National technical assistance center SARTAC with other national organization as the manager of the Advisory Committee working on reviewing resources for the Self Advocacy Website and Think Tank.Juliana has been a Self Advocates Becoming Empowered (SABE) National Advisor and project supports since 2011. Juliana is on the SABE GoVoter Project in collaboration with NDRN as Administrative Assistant. The outcome of the project is to increase informed voters with disabilities about the voting process and their voting rights. Project activities include: providing Technical Assistance to P&As on disability issues, hosting the Distance Training webinar series on the SABE GoVoter Toolkit that shows how P&As can work together with self advocacy groups, and manages and analyzes the Voters with Disabilities Experience Survey.Juliana coordinated the My Technology Handbook to support people with disabilities on how to use technology in 2014. She is currently working on the My Technology Handbook 2. Juliana also supports the organization with Social Media, the SABE Nation Newsletter, the new and improved Website, and Facebook.

In 2005 she founded Our Space Our Place, Inc.(OSOP) OSOP is a nonprofit which provides an after school and career exploration program for blind or low vision youth.

Anne Fracht currently works at Advocates as Self Advocacy as a Coordinator. She is the Chairperson of M.A.S.S. -Mass Advocates Standing Strong. She is also a Disability Law Center (DLC) Board member. Anne is the Self Advocates Becoming Empowered (SABE) Representative of Region 8 and works with self advocates from Connecticut, Maine, New Hampshire, New York, Rhode Island, and Vermont. Anne loves the Self Advocacy movement, has received many awards in Mass as a self advocate. Anne has been living independently for the past 16 years or more with her 2 cats. She also likes to be with friends, listen to music, go to concerts, and enjoys completing jigsaw puzzles.
Friday, May 18, 2018,  10:00 am to 3:00 pm
Best Western Royal Plaza Hotel & Trade Center
Marlborough, Massachusetts
2018, even without a presidential election, is an extremely important year for people with disabilities.  Many if not all supports, services and civil rights have been under attack.  While we have been largely protected in MA, voting has never been more important.  Multiple studies have shown that people with disabilities are under-represented, and could make a difference in many contests if they showed up at the polls.
The goal for the conference is to identify barriers to voting, address the need to get out the vote for the upcoming midterms, and then identify a game plan on how we can all work together to improve voter accessibility – both through voter registration and elimination of voting barriers (issues with physical accessibility, ballots, equipment, communicating with election officials, right to vote (guardianship concerns), and other difficulties). After lunch we plan a frank discussion about obstacles faced by people with disabilities leading up to and on election day. We will have self-advocates address the participants and we will then work in small groups to identify a collaborative action plan that can be implemented by the attendees and others to address identified barriers.