NDVRW – July 17 – July 21
Thanks to Natick Public Library for their AWESOME display for National Disability Voter Registration Week!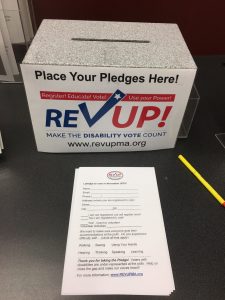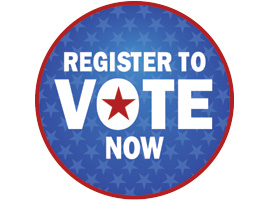 AAPD and the national REV UP initiative have partnered with EveryLibrary to support the political participation of people with disabilities.  In other words, we have a unique opportunity to reach more people with disabilities through our public libraries!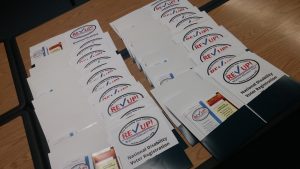 We are asking each REV UP advocate to talk to their public library (ASAP!) about participating in National Disability Voter Registration Week.  Edit and print this  2017 NDVRW cover letter (docx)  in case the director isn't there, or needs time to research the request.  Also, print this pdf announcement ndvrw 2017.   If they agree, before July 17, we (you) will supply them with the following (we recommend 15 of each):
Pledge cards – Download the REV UP PLEDGE CARD (PDF landscape)  ( LARGE PRINT PLEDGE CARD -PDF) to print.
REV UP brochures  – Download the REV UP brochure (PDF)or a (Large Print Brochure  – PDF – 11X17 paper) to print. (note: If you print from the browser, the brochures may not be aligned correctly.   We recommend that you download the pdf's, and then print them from Adobe Acrobat.)
Voter registration forms (either get at your town clerk's or print the two sided form from Voter-reg-mail-in.pdf .)
Leave a box or basket to collect any completed pledge forms.
On July 22, pick up the completed and uncompleted pledge forms.   Determine how many registrations may have been completed and let us know that number.  Send us (see below) your completed pledges so we can enter them into our system, and keep people up to date on elections.  Or enter them into the Sign Up page yourself.
For more ideas on how to work with your local library and get more people with disabilities registered to vote, download the EveryLibrary Toolkit for NDVRW (pdf).
Please mail your completed pledge cards to Sue Rorke, MetroWest Center for Independent Living, 280 Irving Street, Framingham, MA 01702.