I have the right to take part in civic life.
People with disabilities are under-represented at the polls. REV Up aims to increase the number of people with disabilities who vote. We have what you need to Register to Vote, to  get Educated on the issues, and to Vote. We are non-partisan, and invite voters of any party to join our efforts.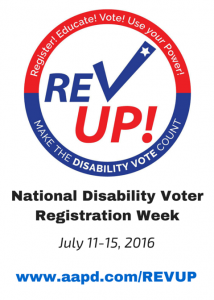 There are two more elections in 2016:
The State Primaries are Thursday, September 8.  You must be registered by Friday, August 19.  (FYI: All state representatives and senators, and all congressional representatives are up for election this November.  Any seat that has multiple people of the same party running will be on the September State Primary ballot. )
The State and National Election is Tuesday, November 8.  You must be registered by Wednesday, October 19.
Voting is your right and  your responsibility!